Back to all posts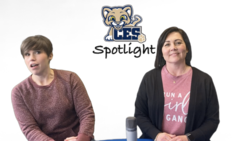 Have you ever wondered what teachers do at school when there are no students here? Here is your chance to see what is going on at CES this week............
Every Tuesday, Mrs. Bevans and Mrs. Norton produce the CES Spotlight, hosted by our Grade 5 students. This has helped to unify our school during a year when we have not been able to gather for our traditional assemblies.
This week we are sharing with you a glimpse at what our spotlights are like, where each month we introduce a monthly value for students to practice. Enjoy the video!