Back to all posts
Posted on
Spring Photo Session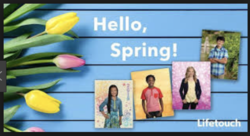 This year we are having a Spring Photo Session with Lifetouch, it will be the same as the photo session in the fall. This way you are able to compare your child's growth from the first of the school year to the end of the school year.
Lifetouch will pay the school for every child  they photograph, and we will be putting this money towards the new playground. There is no obligation for you to buy the photos.
The scheduled day for photographs is:
Monday, April 29th.
This is the first day students come back after the Easter Break, so we will send out a reminder a couple of days prior.