Back to all posts
Posted on
Letter for Preschool Parents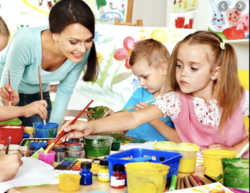 Hi Parents,
My name is Hali Leishman and I am the new Preschool teacher for CES.  I have met some of you and I am looking forward to getting to know everyone and working with your kiddos!  I just wanted to give you some information and let you know of some important dates that are coming up.  I have tentatively sorted students into class lists according to parent preference and there is an imbalance between the morning and afternoon classes.  I will have to move some students from morning to afternoon and this will be done on a first-come-first-served basis according to when fees were paid.  As more students are registering this week and next week, class lists won't be finalized until later next week.  I will then send out an email letting you know what class your child is in and what the times are.  If you know of someone who did not receive this email and should have, please have them contact me.   
Important Dates:First day of Preschool:  Monday, Sept 9 (for MW classes)                                      Tuesday, Sept 10 (for TTH classes)PUF children will start the following week: Sept 16th
Parent-orientation meeting:  Thursday, Sept 5  7:00pm in the Preschool room.  Please attend as many questions will be answered as well as expectations explained so that we can have a great year together fostering the learning of the Preschool children.
I will also need to know how your child will be getting to and from Preschool.  
Bussing: Native bussing - Contact Ryan Many Chief 403-849-7089
PUF:  Bussing will not start until the 16th and Wendell will contact you with your time
Rural: Contact Corey McCarthy at the Bus Barn 403-653-4491

Thank you and see you next week!

Hali 403-894-6885hali.leishman@westwind.ab.ca