Back to all posts
Posted on
Halloween Party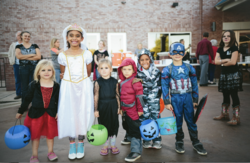 The Parent Council are holding a Halloween Costume Contest and Dance Party on Friday, October 30. There will be only be one grade level at a time in the gym. 
We are also tentatively planning on having an outdoor costume parade after the Parent Council Dance Party. This will begin at 11:15 am. The students will parade on the sidewalk around the school and parents are welcome to come and stand on the lawn at the front of the school to watch the parade. In case of inclement weather the parade will  take place inside the classrooms and it will be streamed live for parents to view at home, parents will not be allowed to watch inside the school. The decision will be made on Thursday 29 whether the parade will be held inside or outside and parents will be notified.
We have also extended the Hope Squad Food Drive until the end of next week. If you would like to donate non-perishable food items to the Food Bank, we are collecting items in the gathering area.