Back to all posts
Posted on
Upgrading our Playgrounds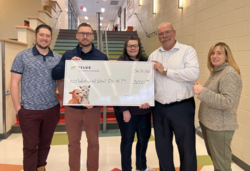 The fundraising for our new playground has really taken off! Many thanks to those who donated through our Go Fund Me page and directly to the school.
The Town of Cardston has really stepped up with a commitment of $25,000 and an additional $10,000 in-kind. 
The County of Cardston has also generously donated $10,000 and an additional $10,000 in-kind.
The support of each of these important local organizations really emphasizes that the community is behind this effort. Because of these, and other, generous donations from individuals and families we are able to achieve our first goal of applying for the maximum matching grant from the provincial government in January, 2022.  
We still have work to do in the new year to secure all the funding needed for this project. We will continue to update regularly in 2022. Thank you to everyone for all of their support. 
To see more about our playground fundraiser, please visit this site. 
If you would like to donate through our Go Fund Me page, please visit the site here.